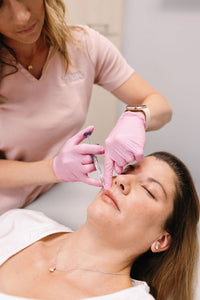 Filler By Area (Lips and Folds)
(limit 1, Up to 2 Syringes)

Like other parts of the face, the lips lose volume, color, and elasticity due to aging. Lip fillers work by restoring this volume, color, and elasticity in order to smooth upper lip lines for up to a year.
Laugh lines and folds occur when age causes nasolabial folds to deepen and marionette lines to form. Facial fillers can be used to correct these lines and folds.

Specials cannot be combined.