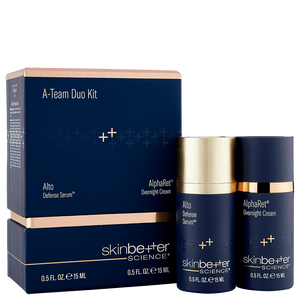 A dynamic, award-winning skincare pair that will help defend against free radicals and rejuvenate the look of skin.
Alto Defense Serum
Combines Vitamins C and E + 17 additional antioxidants designed to provide a new level of comprehensive and dynamic defense against free radicals.
Enhances vitality and improves the appearance of skin tone and luminosity.
Reduces the appearance of skin redness.
AlphaRet® Overnight Cream
Significantly reduces the appearance of wrinkles in as little as four weeks, with little-to-no irritation.
Provides moisture to help counteract dryness associated with traditional retinoid-based products.
Combines two gold standard skin rejuvenation ingredients - a retinoid and an AHA (lactic acid) - joined together to create the revolutionary AlphaRet technology that minimize irritation, enhancing satisfaction and experience.
A blend of antioxidants helps neutralize free radicals.