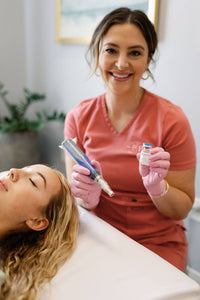 ADD ON Exosomes to Skin Care Service or Laser Service
(limit 1. This is an ADD ON to Skin Care Service or Laser Service only)

What are Exosomes?
Exosomes are extracellular vesicles that are responsible for cell-to-cell communication, delivering the information and building blocks to regenerate. As we age, our skin's ability to repair damaged cells and maintain collagen is diminished. Exosomes facilitate the exchange of mRNA and miRNA, which deliver instructions to the cells.

Benefits:

Reduce post-procedure downtime
Benefit in post-procedure burning
Enhance procedure benefits
Reduce the appearance of wrinkles
Enhance skin texture
Support a richer skin tone
Safe for all skin types and tones
Non-invasive
Please indicate on "note to your order" during checkout whether you want this special added to your account or if this is a gift (please include recipients name). We may contact you for confirmation.

Specials cannot be combined.