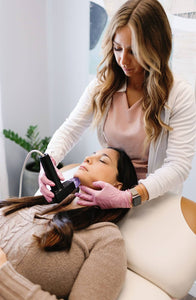 Morpheus8 (Face + Neck) Package of 3
(limit 1)

The Morpheus8 is a device that combines microneedling with radiofrequency for fractional resurfacing that stimulates collagen production. By targeting the deeper layers of the skin, the building blocks will reorganize themselves in a natural anti-aging process. The treatment is one of the best for restoring a youthful and firm quality to the face, significantly reducing the visible signs of aging.

Please indicate on "note to your order" during checkout whether you want this special added to your account or if this is a gift (please include recipients name). We may contact you for confirmation.

Specials cannot be combined.